We can insert sparklines in Excel to cells of a worksheet in few easy steps. Sparklines have a compressed size that show trends in a bulky data set in a visual and concise manner. This tutorial will walk all levels of Excel users through how to work with sparklines in Excel.
Figure 1 – How to Create a sparkline in excel
What are Sparklines in excel?
Excel sparklines are little charts that are plotted within individual cells of a worksheet. A sparkline is very effective when placed side-by-side with the data it represents. Sparklines highlight seasonal changes, abrupt increase or sharp decreases, maximum and minimum values, etc.
How to Add Sparklines in Excel
We will select the range of the data that we want to analyze with the sparklines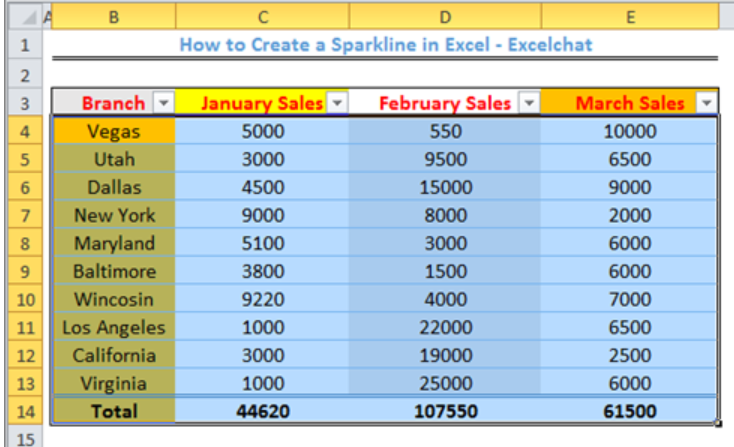 Figure 2 – Data for excel column sparklines
We will click on the Insert tab and in the Sparklines group and then select the type of sparkline we want
Figure 3 – Sparklines group to insert microsoft excel sparklines
Excel includes four types of sparkline charts: line, column, win/loss, and stock. We will click on Column for this tutorial
Figure 4 – Create Sparklines dialog box
We will highlight Cell F4 to Cell F14 as the location range
Figure 5 – Create Sparklines Location range
Figure 6 – Sparklines excel
Note – The sparklines changes automatically when we make a change to the content of the range where we plotted the sparkline.
How to Delete a Sparkline
We will click on the sparkline we want to delete. We will click on Cell F4
Figure 7 – Click on Cell F4
We will go the Design tab and click on Clear.
Figure 8 – Click on Clear
On the drop-down, we will click on Clear Selected Sparklines
Figure 9 – How to Delete a Sparkline in Excel